The kitchen can often be the center of a home, as it is for many of us at Paul White Company. Whether you're using it to cook a light breakfast or extravagant meals, share takeout with family or gather with friends and loved ones, every kitchen needs countertops. Paul White Company can help you pick the ones that best suit your needs.
From planning your next home improvement project to designing a new home, choosing countertops can be a lot of fun. It can also be overwhelming. Whether you're a fan of classic granite countertops, the modern look and feel of quartz countertops or are trying to decide on a particular specialty stone, our experts are here to help you pick the perfect countertops that reflect your style, budget and needs.
Here are a few tips from us to get you started on your countertop journey.
1. Choosing Your Countertop Aesthetic: Color, Pattern, Finish and Edge Style
Step One: Countertop Color
Before you get into the nitty gritty, start with the fun parts—like choosing which color(s) you want at the #centerofyourhome. If your cabinets are light, consider a medium- to dark-colored countertop for contrast. If you want a pop of color, try sea green for a beach condo feel all year long. If you love the modern look, choose white countertops with solid color cabinets (or vice versa).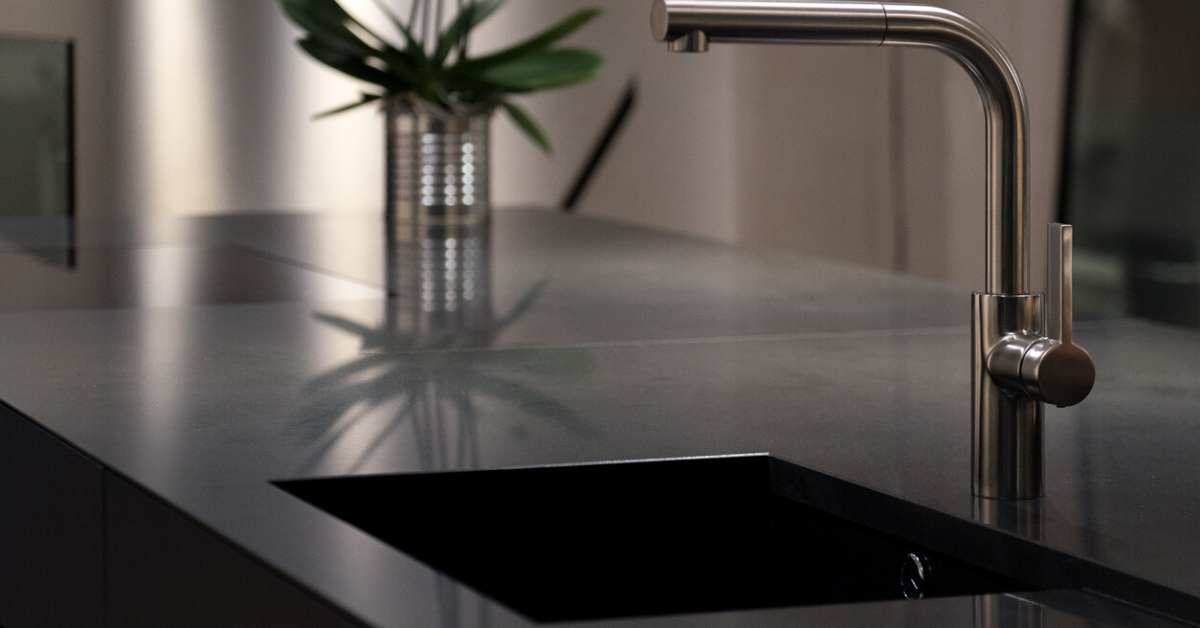 If you're unsure, you can always try our Room Visualizer tool to play around with colors—or ask our experts for advice!
Step Two: Countertop Pattern
Once you've decided on a color, get ready to pick out a pattern. One of the important decisions you'll make is whether you want more or less "movement" in your kitchen.
Our Snowflake and Thunder White granite countertops are full of vibrant movement, with streaks and flakes that make it feel like your countertops are a piece of art in the middle of your kitchen.
If you're looking for a more calming, stationary vibe, our Coastal Grey, Mica, and Charcoal soapstone quartz, along with our Absolute Black granite, are fantastic options.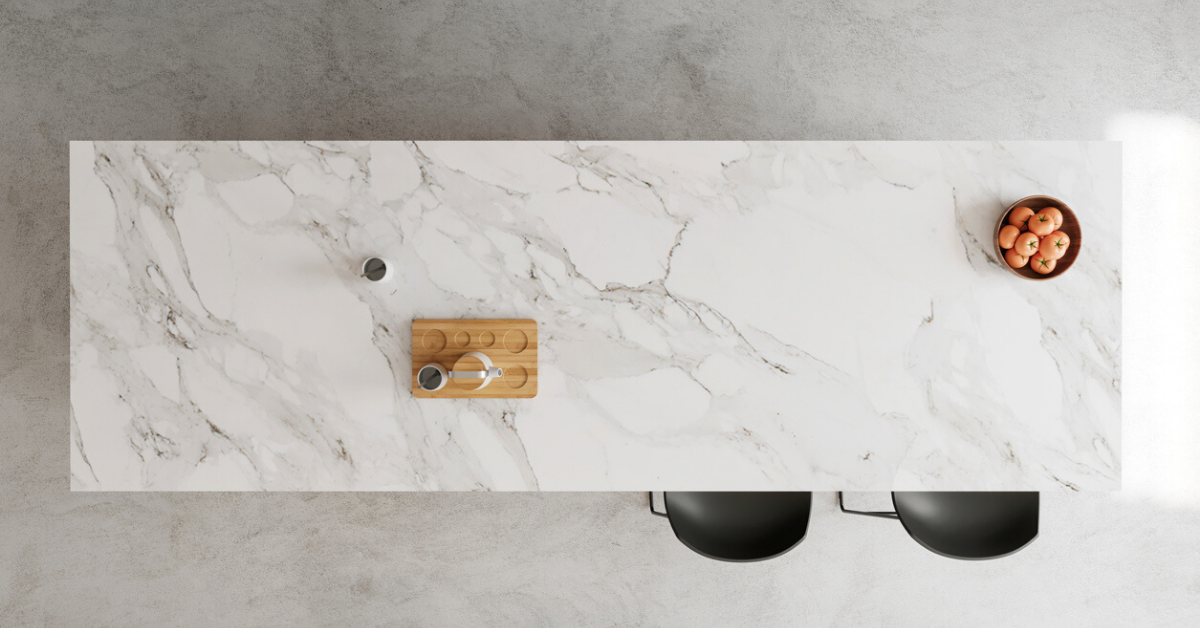 Maybe you're looking for something in the middle! In that case, we suggest our Unique Calacatta Gold quartz with soft gold veining that adds a subtle sparkle to the white background. For a slightly bolder look, our Nero Borghini quartz features bold white stripes in a sea of black.
We carry an array of engineered quartz and natural stone—all available in a range of colors to ensure you find the exact countertops you want for your home improvement project.
Step Three: Countertop Finish
Another fun decision is the finish you want for your countertops: Matte (honed), glossy (polished) or textured (brushed/leathered)?
Going with a textured finish will give you a more rustic feel, while a glossy finish is perfect for those who love nice gleaming countertops. Meanwhile, matte in kitchens that get a lot of sunlight can help you avoid unnecessary glare.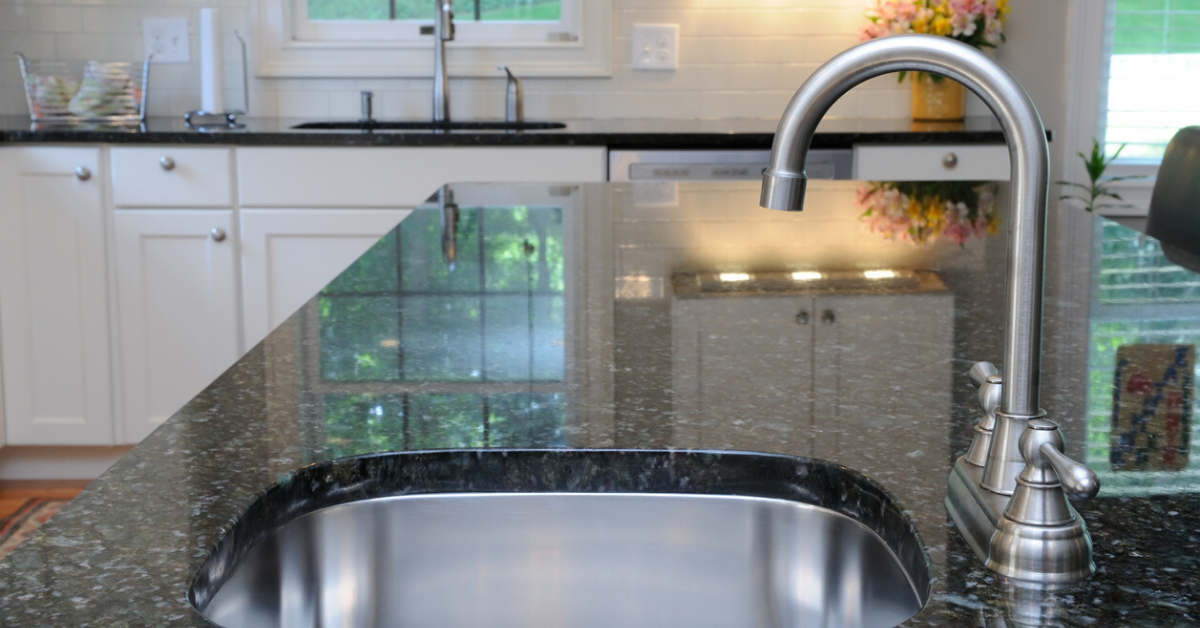 You can't go wrong with the choice you make, and our experts can show you which finish works best with your style.
Step Four: Edge Profile
Once you've picked out your color, pattern and finish, it's time to consider different edge profiles. Choosing one can be as much fun as the names. Paul White Company offers six options: Standard aris, 1/4 bevel, 3/16 pencil, 1/2 radius, full bullnose and ogee.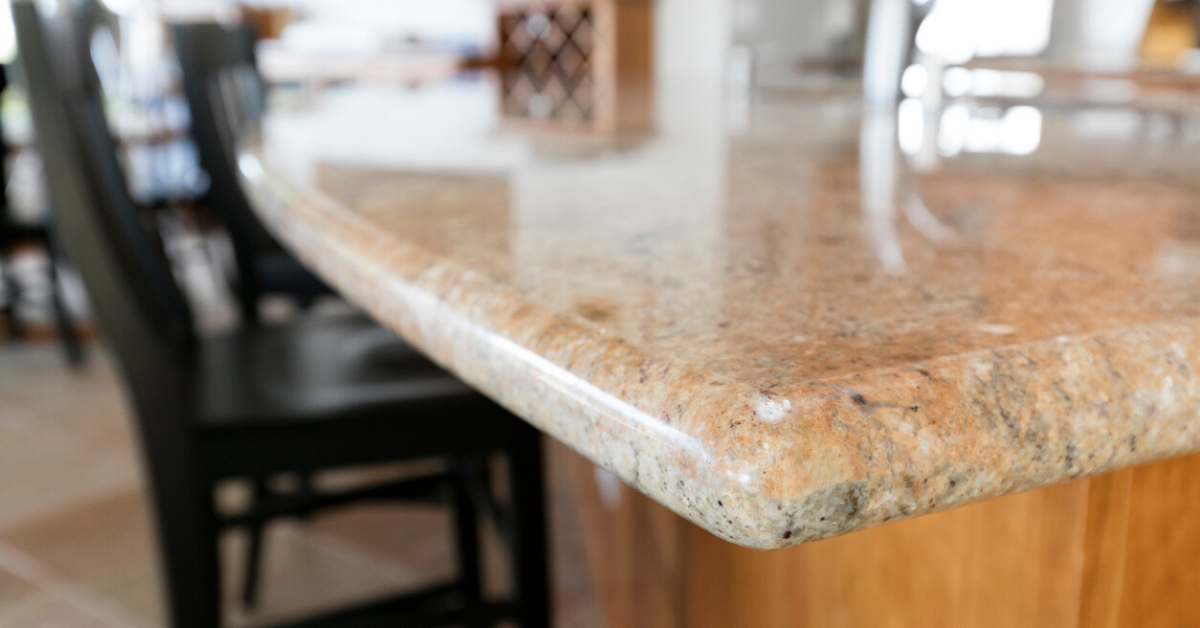 2. Considering Countertop Essentials: Budget and Use
Now that you've played around with potential designs, it's time to make some practical decisions.
If you love cooking and hosting large dinners, you may be tempted to place hot pots and pans on your kitchen countertops. While we don't recommend placing extremely hot items on any surface, granite is your best bet for withstanding high heat.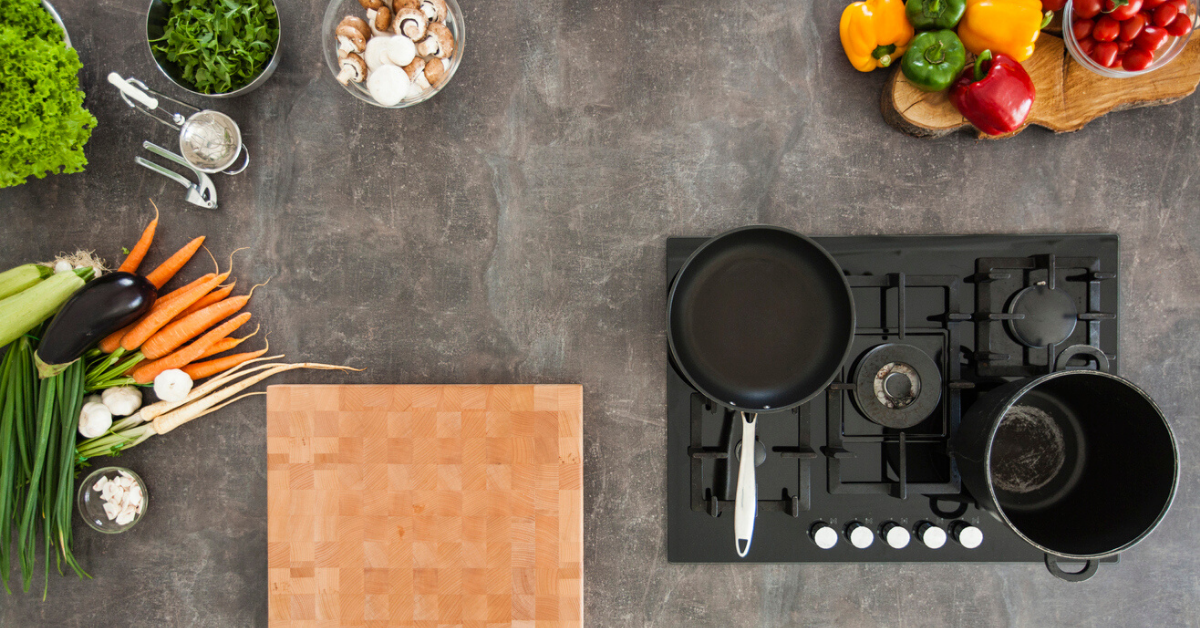 Part of choosing the perfect material for certain areas depends on other practical matters like your budget. We suggest setting a budget before looking at options. It can help narrow down choices, from materials to types of edge profiles, so you can have peace of mind while picking countertops for your home. If you need removal and disposal of existing countertops, remember to factor that into your budget considerations, too.
3. Countertops: When to Bring in the Professionals
At Paul White Company, we understand that making logistical decisions about your countertops can be complicated—even overwhelming.
Whether you have slide-in stoves or cooktops, we can help you design and install countertops that work best for your unique space. We'll tell you if your entry points, like doorways, are big enough to accommodate that large slab you were considering for the kitchen island.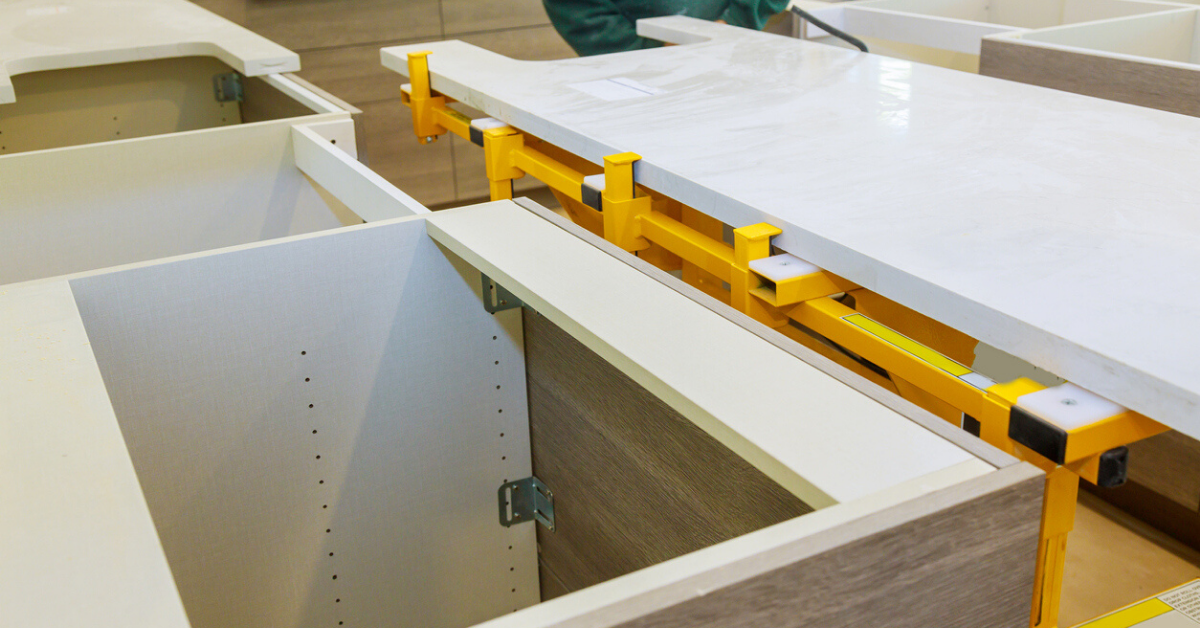 As for customization, it's not all about adding backsplashes, waterfall panels, shelves or windowsills. Creating outlet cutouts or milling the countertops to the correct thickness to fit certain areas of your kitchen is also a part of customization that we can handle for you.
Let your imagination run wild, and let us help you turn it into reality.
Countertops at the Center of Your Home
Choosing new countertops can require a lot of decisions. We're here to help you make them.
Come into our showroom to see our large variety of countertop material options. Discuss your ideas with our experts so they can assist you in choosing countertops that you'll enjoy in your home for years to come.
Call us at 207-797-4657 or visit us at 50 Allen Avenue, Portland, ME 04103.