Giving Back is in PWC's DNA
Monday was a great day to be on the golf course and a great day to give back to the community as the Paul White Company participated again in the Camp Susan Curtis Golf Classic at the Woodlands Club in Falmouth.
We really lucked out because the weather was perfect. It was nice to see friends come together to help such a worthy cause.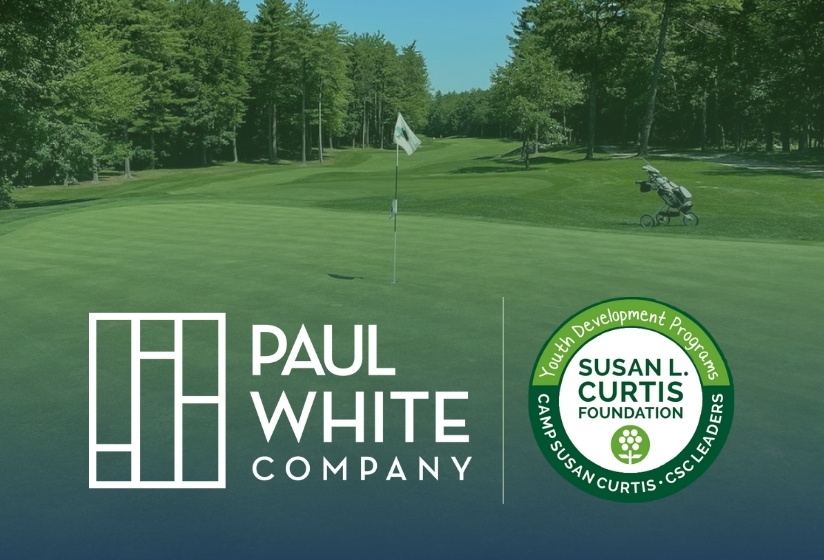 The Paul White Company has supported Camp Susan Curtis for more than 20 years. Our CEO, Paul White, is a former board member of the organization, and continuing to support it is important to Paul, his brother Jon and the company.
Initially, the company became involved with Camp Susan Curtis when a facilities director from L.L. Bean—one of Camp Susan Curtis' biggest benefactors—encouraged us to get involved.
The cause struck a nerve with Paul and the team because Camp Susan Curtis serves at-risk kids in Maine and works with children in every county in the state. It's an organization with low overhead but a high impact, Paul says.
Camp Susan Curtis, located in Stoneham, Maine, opened in 1974, and more than 18,000 Maine youth between the ages of eight and 18 have benefited from the camp's summer programming. Presently, the camp offers four two-week, co-ed residential camp sessions for around 500 total campers per summer.
The sessions include traditional camp experiences for fourth through seventh graders, several bridge programs for early teens and a comprehensive leadership development program for older teen campers. All campers receive full scholarships, estimated to be about $1,300 per camper, with money raised by the Susan Curtis Foundation.
The golf tournament raised around $24,000, enough to send 19 children to Camp Susan Curtis for a 10-day camp experience. Paul and his teammates are already looking forward to next year's tournament.
Starting Young
Supporting the community has been an important part of Paul and Jon's lives since they were kids. Their parents, Paul and Maureen, started a tile business in 1970, and they ingrained in their children the value of giving back to the community. They have made sure the company has continued with the tradition their parents started more than 50 years ago.
It was especially powerful when Paul played on Portland's first Little League team in the mid-1970s. His dad's company's name on their shirts made an impact and gave him a sense of pride. Now that the Paul White Company has grown, there are a lot more opportunities to give support.
Paul and Jon say it was eye-opening—and moving—to see and hear about some of the things these children were dealing with. They have pledged to continue supporting Camp Susan Curtis as much and as long as possible.
Whether it's participating in a charity golf tournament, wearing T-shirts supporting breast cancer awareness or veterans, or collecting donations from team members, family and friends, Paul White Company feels a deep sense of responsibility to support the community. It started more than 50 years ago and, hopefully, it'll continue for another 50 years.
For more information about Camp Susan Curtis, visit susancurtis.org.