History of Soapstone Around the World
In the 18th century archaeologists found evidence of soapstone being used by the Colonial Settlers for counters, sinks and bed warmers. Soapstone was used heavily along the east coast where artifacts of cookware date back to 2,000 BC. Native Americans were known making cooking stones. They would place soapstone pieces into a fire until they were scorching hot, then place them in stew to heat it through. The Native Americans also began to create pieces of art with the stone and would use it to trade with the settlers in Canada and the United States.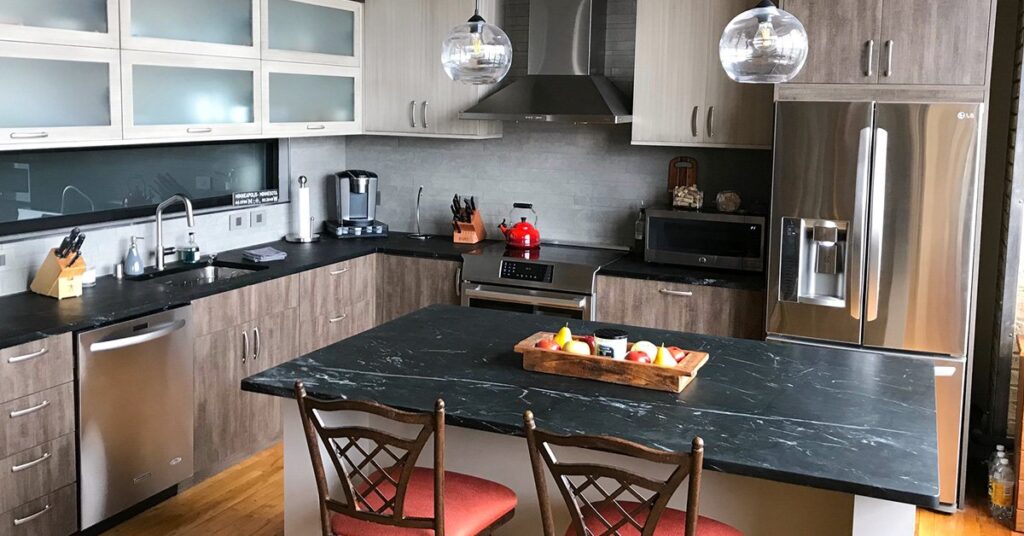 Around the world, Scandinavia had a history of using Soapstone for tools, vessels and sculptures. The Vikings were also known for their utilization of Soapstone for cooking and jewelry. It was the Middle Ages however where soapstone was used in common architecture. During the 12th century, India made entire buildings out of soapstone, China used soapstone to create seals in lieu of signing documents and there have been discoveries of soapstone throughout Zimbabwe, Iran and Crete. However, today most of the world's Soapstone is quarried and exported from Brazil.
Soapstone has beauty that is truly timeless
Soapstone's technical Latin name is Steatite; it is metamorphic rock that is composed of 70% talac, which makes it rich in magnesium, and it is mixed with other minerals. But what does metamorphic exactly mean? It means that a rock changed from one form to another under intense heat and pressure.
Characteristics
100% nonporous and will not stain or etch.
Will not be damaged by heat, which makes it highly appropriate for hot pans.
Retains heat, so it is perfect for hearths, fireplaces, counters and stone ovens.
Dark green and black soapstone are typically from Brazil and have a harder composition.
Lighter green and grey soapstone are quarried in India and are much softer.
Granite quarries can last hundreds of years and are huge, while soapstone quarries are relatively small and last usually not more than 6 years.
Care: oil versus dry wax
For decades people used mineral oil to care for their stone. Though effective it was incredibly time consuming. People would oil their surface every day for a month, then twice a month for two or three months, then once a month to maintain it afterwards.
Dry Wax was discovered about 10 years ago and has changed how people maintain their soapstone. Dry wax is a 100% organic combination of walnut oil, beeswax and canuba oil. You set one or two applications to enrich the rich dark color, then approximately once or twice a year depending on use of the surface.
Repairing and buffing
Soapstone is soft and prone to scratching, but is easy and inexpensive to repair. With these three steps
With a piece of 120 fine grit sandpaper, sand until scratch is gone gone.
Then use a piece of 240 grit sandpaper to smooth it out.
Finally use a good ol' kitchen scouring pad to polish.
To buff: reapply dry wax and your stone is like new. It is the only stone you can restore to purchase condition from your own home!
Want To See If Soapstone is Right For You?
You can see samples of soapstone and more at our Stone Shop at 444 Riverside Industrial Parkway in Portland! Call ahead at (207) 797-4657 to set up an in-person or virtual meeting with our experts!