Spring is here, bringing along warm weather, sunshine, and caravans of color. Ever wished for colorful seasons all year long?
Meet our sales specialist, Jack Herzig. Jack is an expert at interior design; his favorite projects are kitchen countertops and backsplashes, as he loves cooking and understands how essential the kitchen can be to transforming a house into a home. Whether you love the riotous splendor of tulips and hyacinths or the more soothing tones of wood and an azure sky, he can help bring brightness and the perfect pops of color into various areas of your home, regardless of the season.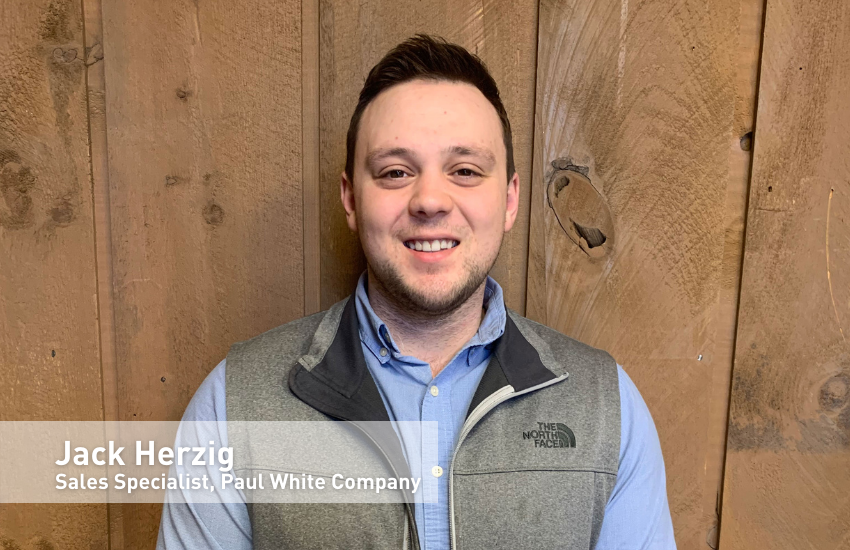 Take a look below at Jack's top five picks for bringing color into your home—in style and on trend.
1. A Twist on Tile: Glazzio Tile
Traditional tile may always be in style but reimagining those classic patterns and colors can help give your home a look that's equal parts sophisticated and fun.
Interested in designing a soothing spa-like bathroom or a calming kitchen? While grey, white, and black tile are classic choices, they're not the only colors that can provide tranquility. If you're ready to reimagine what a relaxing space can look like, Jack has an inspired tile option: Glazzio Tile in the Isabella Bay color.
Perfect for bathrooms or kitchens, the aquamarine base brings to mind the ebb and flow of the sea or an early morning spring sky. For an additional twist, the splatters of copper peppered throughout give it a modern, industrial look. The variance in tile also ensures that after tile installation, your new bathroom or kitchen will have a truly unique appearance.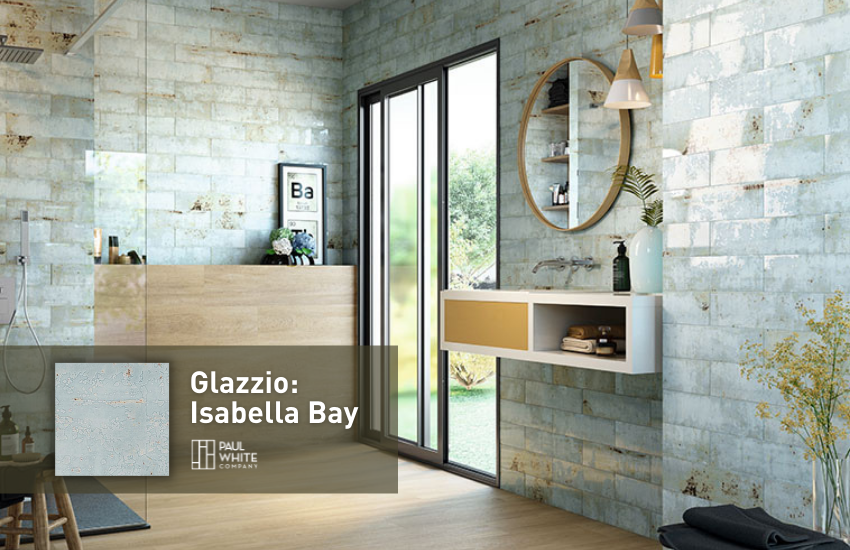 2. Aesthetic Accent Walls and Backsplashes: WOW Tile
Splatters of sauce and oil in the kitchen are an everyday reality, particularly for all the home cooks out there. So, why not add a different kind of splash—in the form of a brand-new backsplash, which can add color and style while making clean-up a snap.
Here's a tip from Jack on a popular interior home design trend: Tile isn't just for kitchens and bathrooms anymore. Get creative with an accent wall of tile in your living room, office, or even your bedroom.
WOW is a design studio that creates handmade ceramic tile in Spain, and its Bejmat line offers eight unique colors. Jack's personal favorite is Lemonade Gloss, which has a modern shine while evoking the joy of sunshine. Best of all, tile is easy to clean and a fantastic way to bring a pop of color and nature into the #centerofyourhome.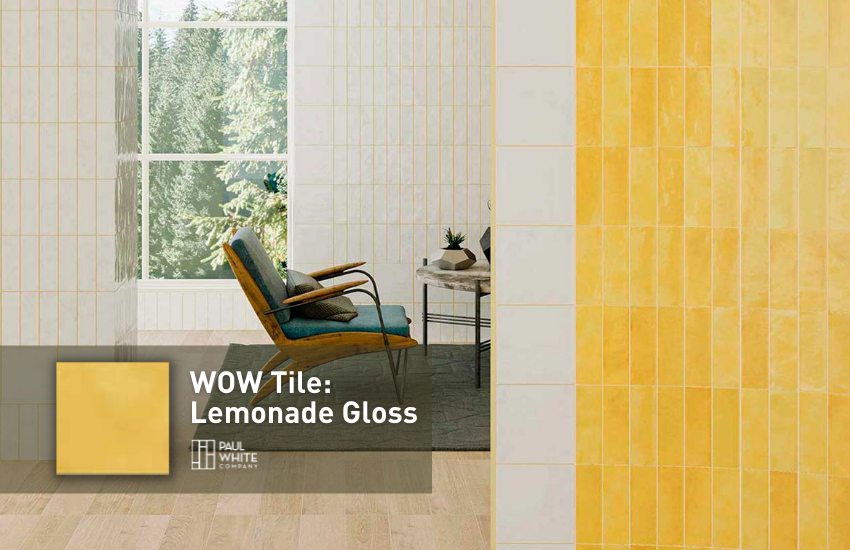 3. Easy and Awe-Worthy: Tarkett Easy Living Sheet Vinyl
Tile and paint aren't the only way to add color and pizzazz to a bathroom. For an original approach, Jack suggests keeping the walls a solid neutral while splashing the floor with fun designs and color.
Some of Jack's personal favorites are the exuberant geometric designs created by Tarkett Easy Living—especially the sheet vinyl in Izabel Navy. Set against stark walls and fixtures, the floor becomes a piece of art, guaranteed to capture the eye and imagination. As an added bonus, vinyl sheets resemble tile but, without the grout, making it easier to clean and maintain.
4. Creamy Coalescing Colors: Cambria Countertops
Here in Maine, beach days complete with lackadaisically lapping waves and a warm ocean breeze are what dreams are made of. So, whether you're upgrading your luxury beach house or just looking to add a touch of Coastal Maine to your interior, we have what you need to bring the colors of the ocean to the #centerofyourhome.
Jack's favorite coastal inspired product: Cambria's Montgomery-colored countertop. Soothing waves of seafoam green weave through the base color of creams, alabaster, and ivory. Clusters of pearlescent sparkles remind you of sunshine dancing across the ocean on a warm afternoon.
Use these countertops to brighten up your bathroom sink or to add a pop of subtle color to a large kitchen island. The soft colors mean you can enjoy the look and feel of the beach year-round from the comfort of your home.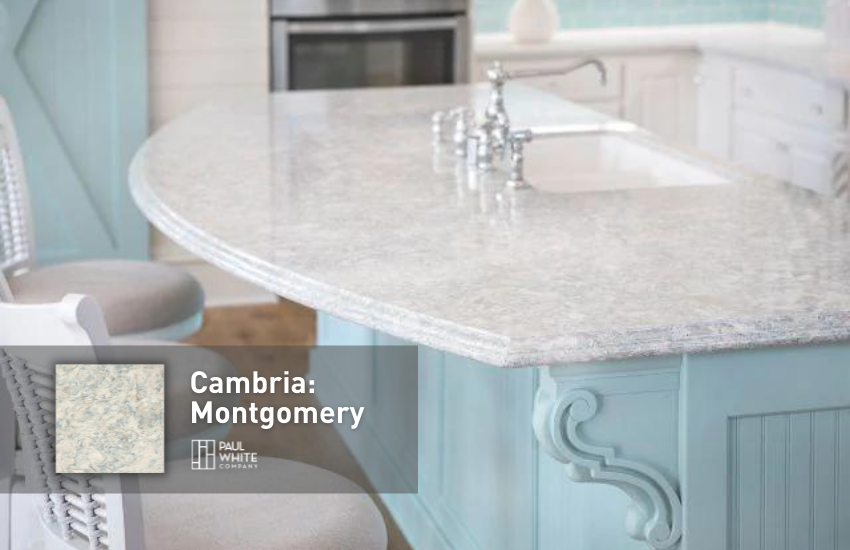 5. Creative Comfortable Carpets: Masland Carpets and Rugs
Hardwood floors, tile, and vinyl can be lovely, sleek, and modern, but sometimes it's nice to sink your toes into a plush carpet or rug.
Jack's advice? If you're not looking to add carpet to your home office or bedrooms, try an area rug, which will add a pop of color without the huge commitment.
Masland's 100% wool and hand-finished rugs—which come in a wide range of unique prints and bold colors—are a wonderful accessory for any room. Jack recommends the Path design, whose cool grey hue resembles a quaint stone pathway.
These rugs are available in a variety of sizes, with pieces large enough to go under a sleigh bed and run the length of a hallway, or small of enough to place under your office chair.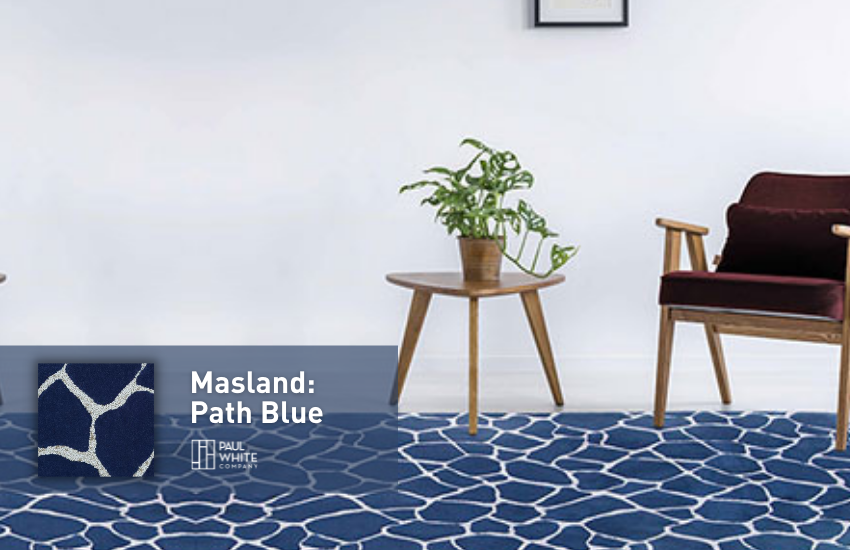 Your Top Picks
Whether you loved all of Jack's recommendations or they simply inspired you to add color to #centerofyourhome, Paul White Company is ready to help you find the perfect materials in the colors best suited to reflect your personal style. Visit our showroom at 50 Allen Avenue in Portland, Maine to speak with Jack or any of our skilled experts. You can even start your design from the comfort of your home using our Room Visualizer.